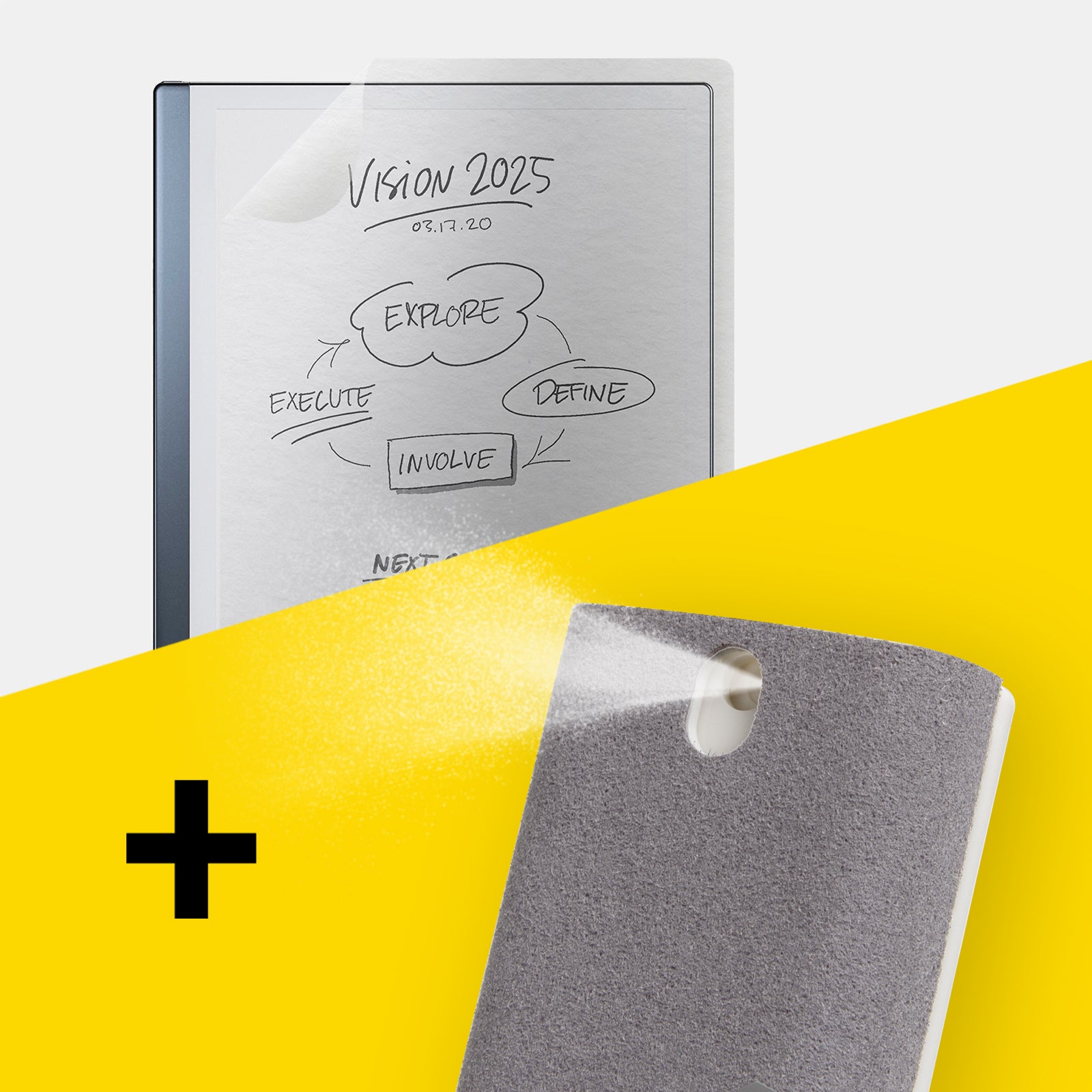 Portable Cleaning Kit and Paper Feeling Film for reMarkable2
Only 5 units left
Tablet cleaning and display protection: optimise your experience with doodroo accessories
REASONS TO BUY THE DOODROO PORTABLE CLEANING KIT AND PAPER FEELING FILM
The doodroo Portable Cleaning Kit and Paper Feeling Film are the perfect allies for graphic designers, design enthusiasts and students who use their tablet frequently. The eco-friendly kit offers convenience with a chemical-free cleaner that is ideal for smartphones, tablets and PCs. The Paper Feeling film turns your device into a virtual sheet of paper, offering an optimal writing and drawing sensation. Whether you are studying, reading or working, these two accessories will enhance your device experience.
QUICK CLEANING GUIDE AND THE BENEFITS OF A PAPER EFFECT FILM
The doodroo cleaning kit is the ideal solution to keep your reMarkable2 clean in an environmentally friendly and effective way. It not only removes fingerprints and dirt, but also offers an anti-static function for a permanently sharp display. The screen protector paper feeling turns using your device into a more natural and authentic experience. Thanks to the paper effect, writing and drawing will be fluid and natural. Whether you are taking notes or working on graphic projects, this combination offers exceptional comfort.
PERFECT FOR STUDY, WORK AND CREATIVITY: BENEFITS IN ONE COMBINATION
Doodroo's mix of portable cleaning kit and paper feeling film proves essential for a wide range of activities. While the cleaning kit provides clean screens and an integrated stand holder for smartphones, the paper feeling film offers optimal writing and drawing. Whether you are a student, a professional working on projects or an avid reader, this combination will offer you maximum comfort and precision for all your activities.