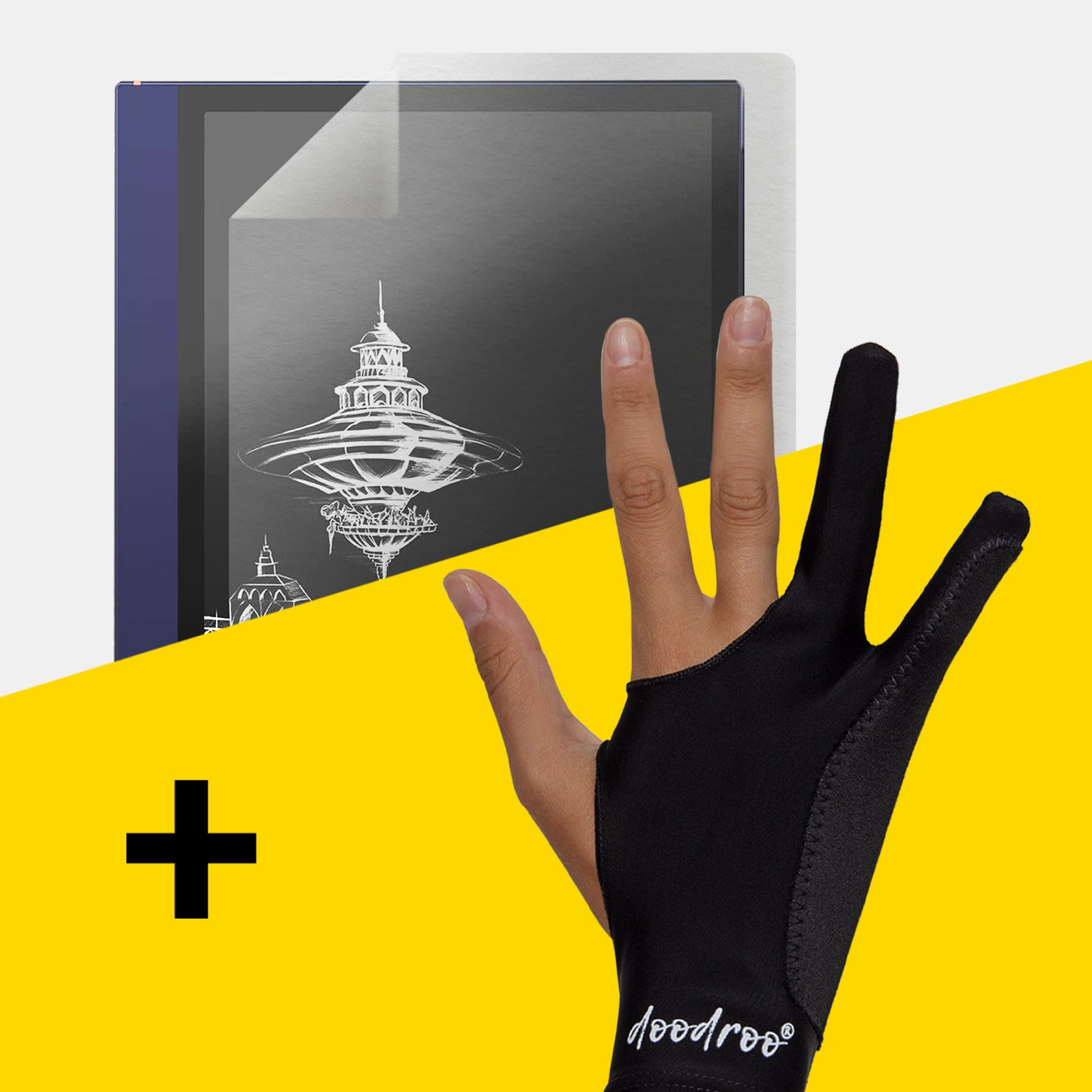 M size artist's Glove and Paper Effect Film doodroo for Onyx BOOX Note Air/Air 2/Air 2 Plus
Perfect for study, work and creativity: write and draw on paper with precision and without smudging
WHY BUY THE DOODROO ARTIST'S GLOVE AND PAPERFEEL FILM
Making the creative process smooth and effective is essential for students, graphic designers and drawing enthusiasts. With the winning combination of the Artist's Glove and doodroo Paper Feeling Film, you will reach new levels of comfort and precision. The Artist's Glove is not only soft and comfortable, but also ensures smooth and natural movements, making it perfect for long drawing sessions on tablets or graphics tablets. Whether you are an artist, designer, architect or tattoo artist, this glove will help you keep your work surface clean, avoiding smudges and fingerprints.
PAPER EFFECT: WORK AND CREATE WITH A NATURAL TOUCH ON TABLETS
Alongside this accessory, there is the Paper Feeling Film that turns your Onyx BOOX into a virtual sheet of paper. Write, draw and take notes with the same natural feel as a pencil on paper. This film not only offers a realistic and sensitive touch, but also reduces fingerprints and reflections. Whether you are a student taking notes or a graphics professional, Paper Feeling film improves accuracy and creativity without compromising the design of your device.
ENHANCE YOUR TABLET EXPERIENCE WITH ARTIST'S GLOVE AND SCREEN PROTECTOR
The Artist's Glove and Paper Feeling Film create a combination that enhances comfort and efficiency. Whether you want to perfect the details of your drawings or take precise notes, this optimal combination gives you the control you need to excel in your work and passion.