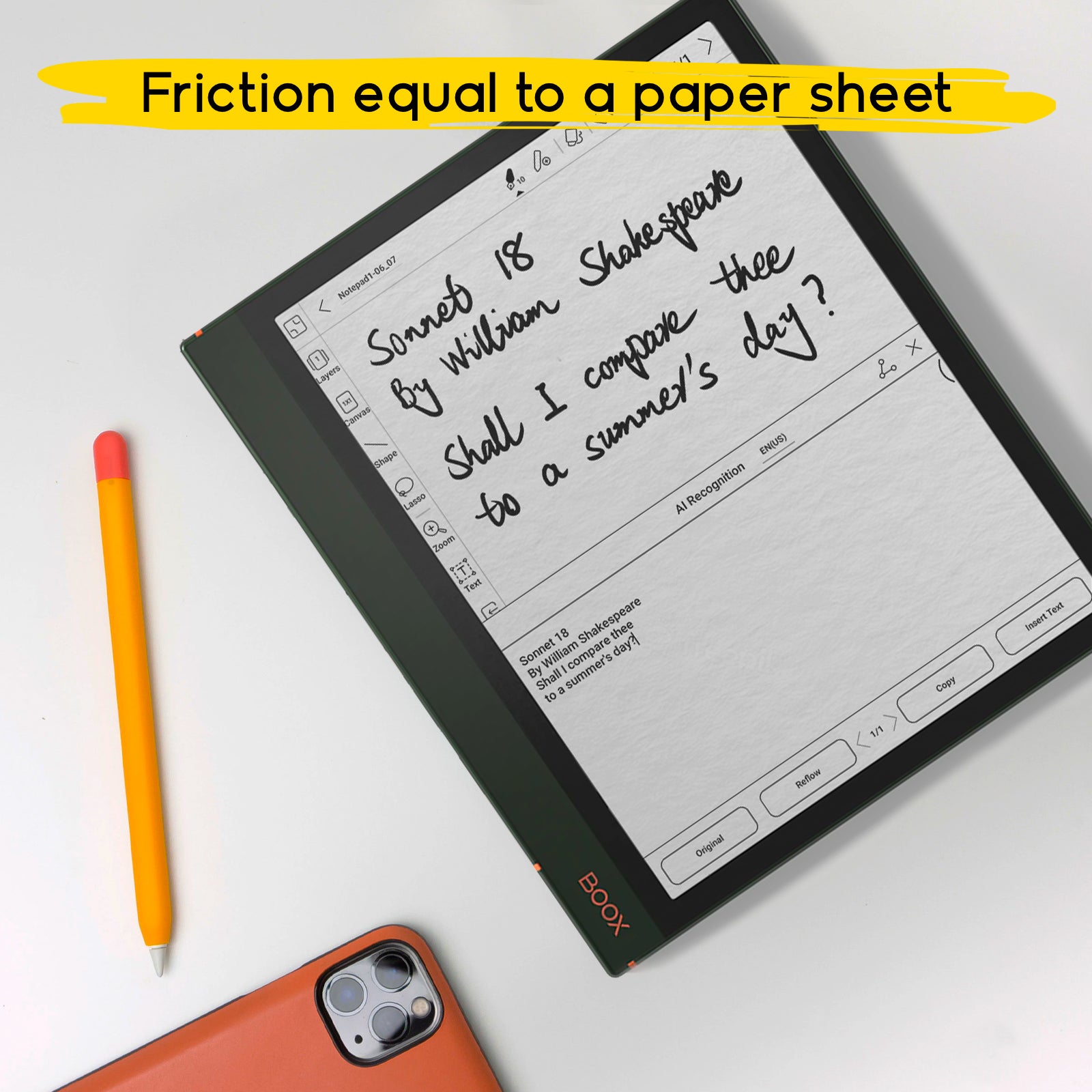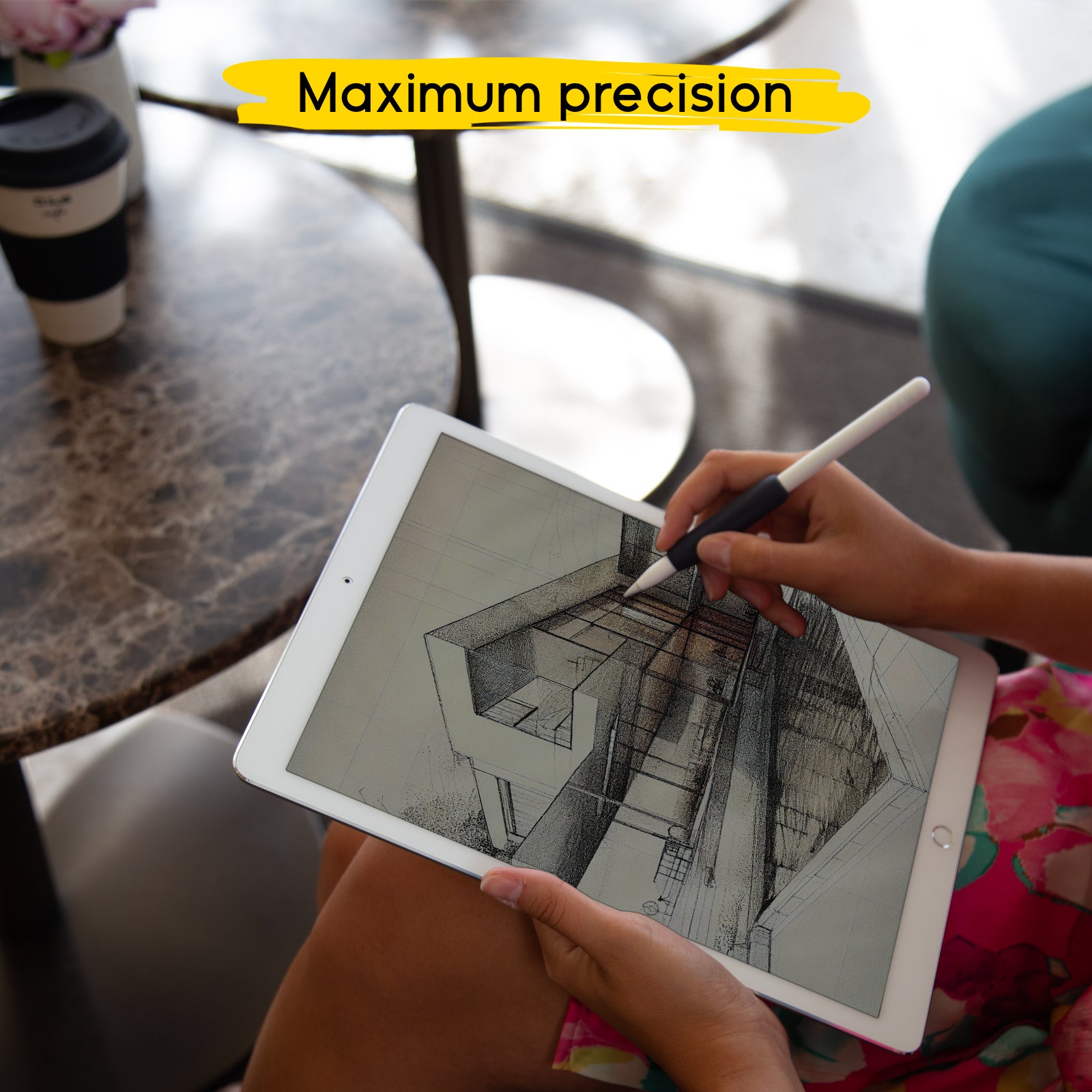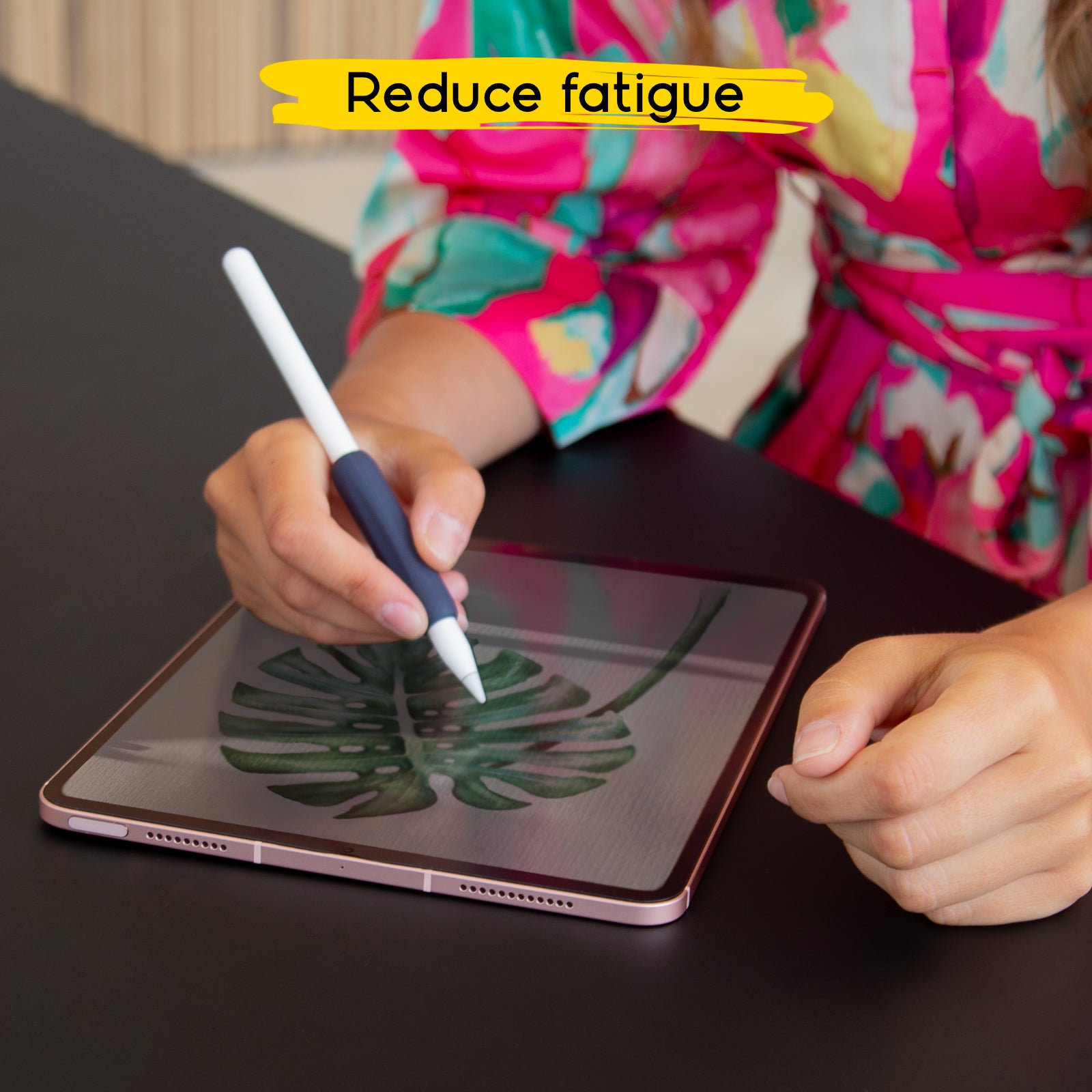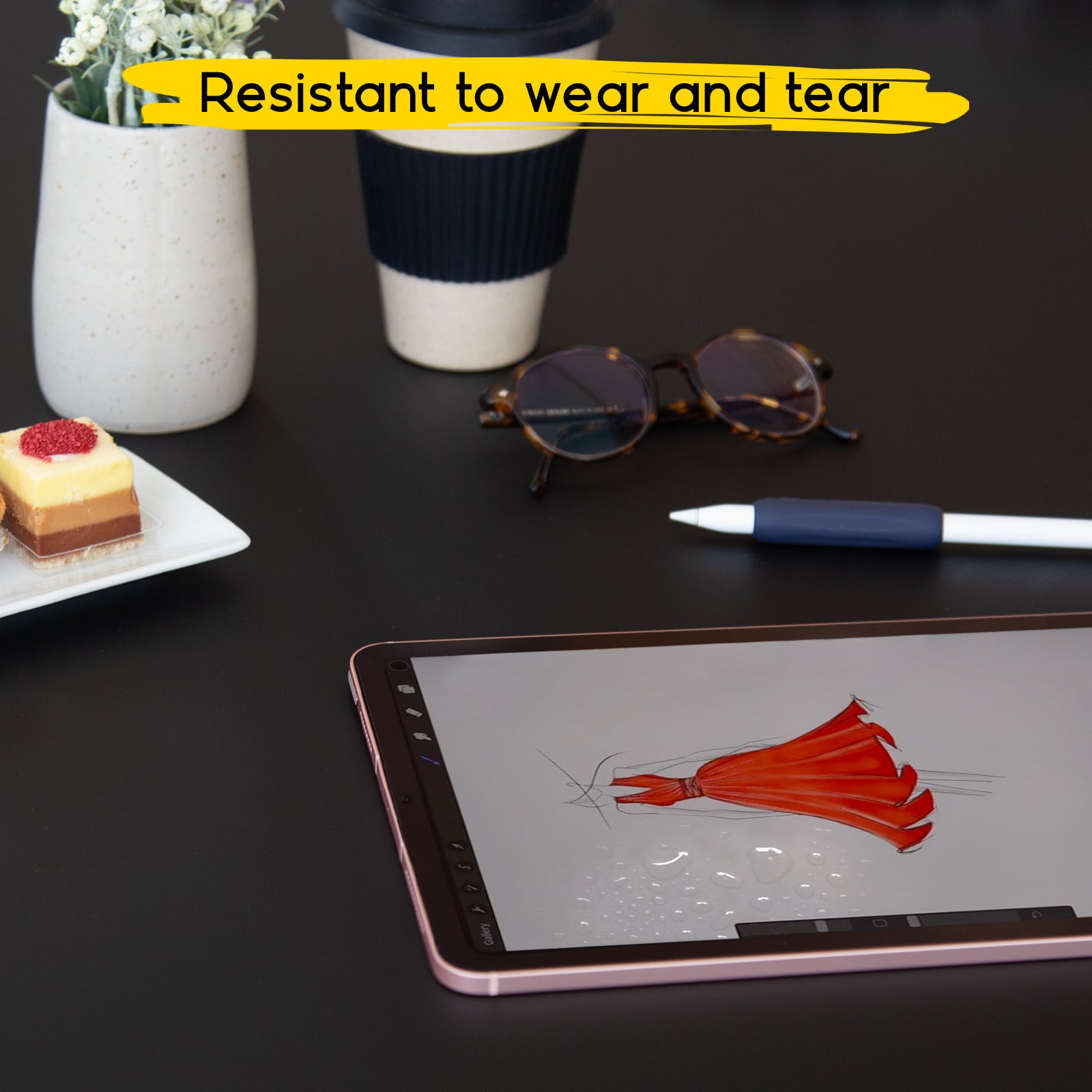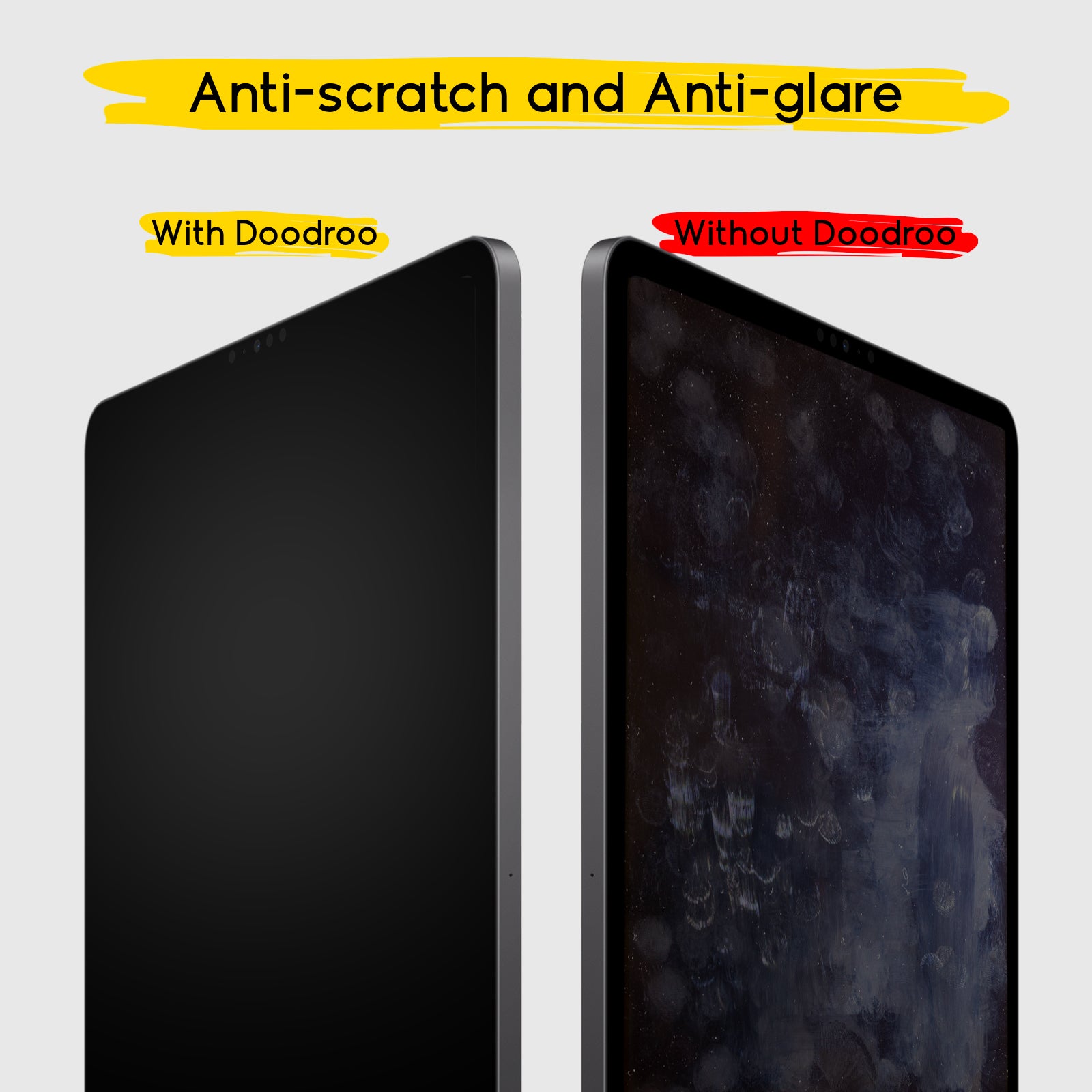 Paper-feel, anti-reflection and anti-fingerprint protective film for Onyx BOOX Note Air/Air 2/Air 2 Plus
This easy-to-apply film feels just like paper, letting you use your Boox Pen like a real pencil
PAPER-FEEL ONYX BOOX FILM: THE BENEFITS
The paper-feel screen protector by doodroo for Onyx BOOX Note Air/Air 2/Air 2 Plus allows you to write, draw and take notes on your device while maintaining excellent control and fluidity. You can use your BOOX Pen or finger and enjoy optimal friction thanks to the paper finish, which results in natural lines.
HOW ONYX BOOX FILM HELPS YOU STUDY AND WORK
All Onyx BOOX users can take advantage of these doodroo protective films. However, certain professionals will particularly enjoy the results: model makers, fashion designers, graphic designers, engineers and illustrators, especially cartoonists.
This film is also very useful for students who want to take notes and annotations during lessons. It facilitates faster writing and allows you to make the most of the Onyx BOOX features, adding screenshots and links to your notes: ideal for both face-to-face and distance learning.
KEY FEATURES OF THE ONYX BOOX PAPER-FEEL FILM
Paper-feel: the stylus does not slide around and the wrist is relaxed, ensuring fluid motions
Optimal sensitivity, natural texture
Maximum precision due to the friction on the film, guaranteeing optimal performance for graphic designers and other professionals
Does not affect the design or functionality of the tablet
Fingerprint reduction
Anti-reflection film to allow optimal use in any light conditions
Quick and easy application with all the necessary accessories included in the package
Suitable protection for students and professionals
THE KEY ADVANTAGE OF A PAPER-FEEL SCREEN PROTECTOR: WRITING AND DRAWING ON YOUR TABLET LIKE A SHEET OF PAPER
Writing and drawing on paper is an incomparable experience. However, this paper-feel film is able to combine optimal sensitivity with an extremely natural texture.
Laboratory tests have shown that the digital stylus has a resistance rating of 24 when used with the film on the Onyx Boox, while a pencil on a sheet of paper scored 25 out of 100. These figures reflect natural friction: the pencil is not sliding around and the wrist is relaxed, ensuring fluid motions.
The screen protector is therefore perfect for creating lines, fine details, decorative elements or simply taking notes.
THE OTHER MAIN FEATURES OF THE PAPER-FEEL FILM
The doodroo film is very thin and will not compromise the aesthetic and functionality of your Onyx BOOX. The microphones and sensors are not blocked: the camera remains free for any use you desire, from selfies to videos.
The film protects against scratches, allowing you to carry your iPad in your bag without the display getting damaged by rubbing against other objects. Using the film dramatically reduces fingerprints. Generally, frequent use and hand lotions can make screens very dirty: once you have applied the film, you will no longer need to clean the display regularly.
Its anti-reflection properties allow you to use your tablet and enjoy sharp images in any light conditions.
HOW TO APPLY THE PAPER-FEEL FILM USING THE ACCESSORIES INCLUDED
Inside the package, you will find all the accessories you need to seamlessly apply the film to your device display. The application process is very simple and takes just a few minutes: simply follow the steps in the instruction manual. Contents:
2 Protective Films
2 sets of application guide stickers
2 cleaning wipes
2 dust cloths
2 applicators
1 instruction sheet
If drawing is your passion, discover the doodroo artist's glove. On the other hand, our stand support will enable you to read and watch videos.