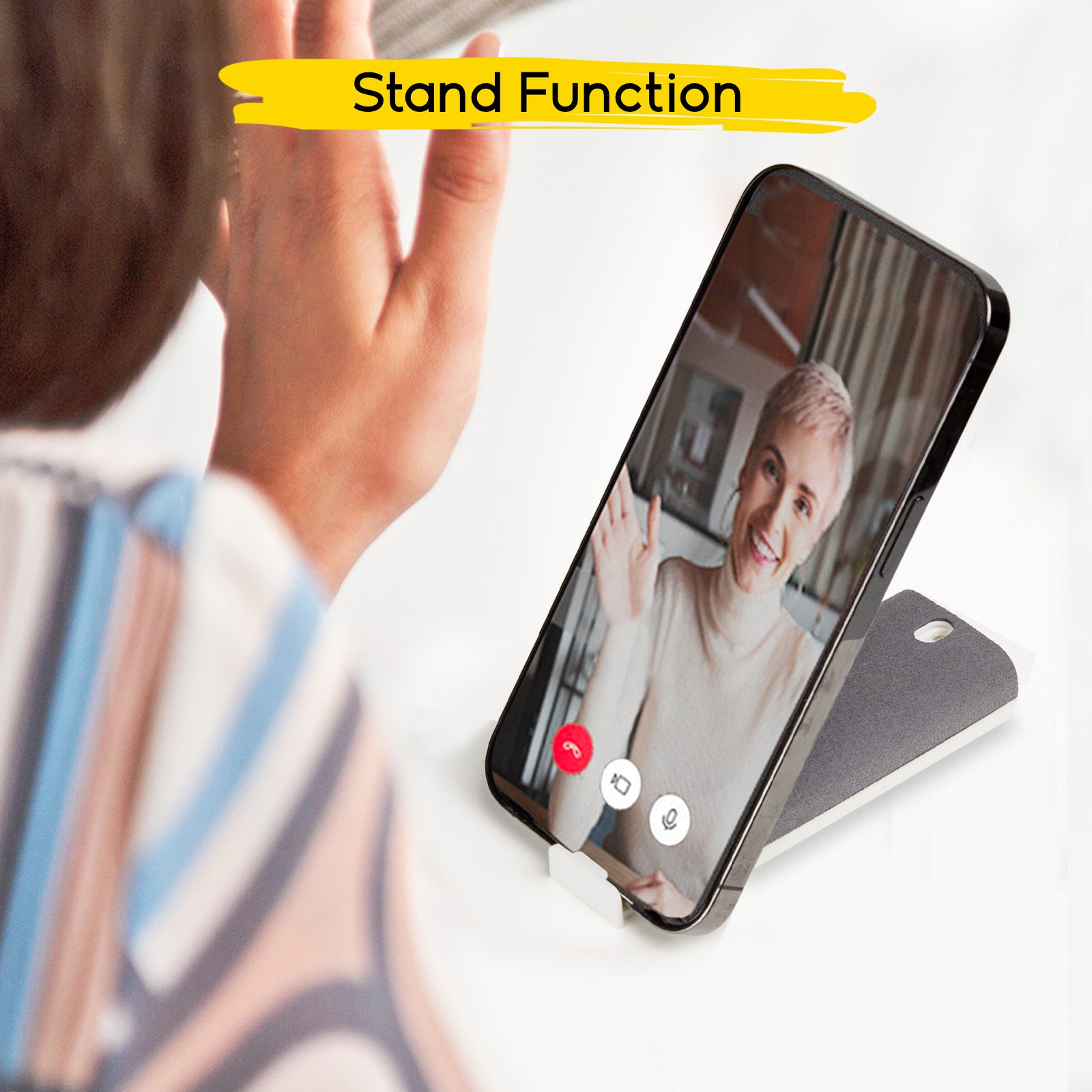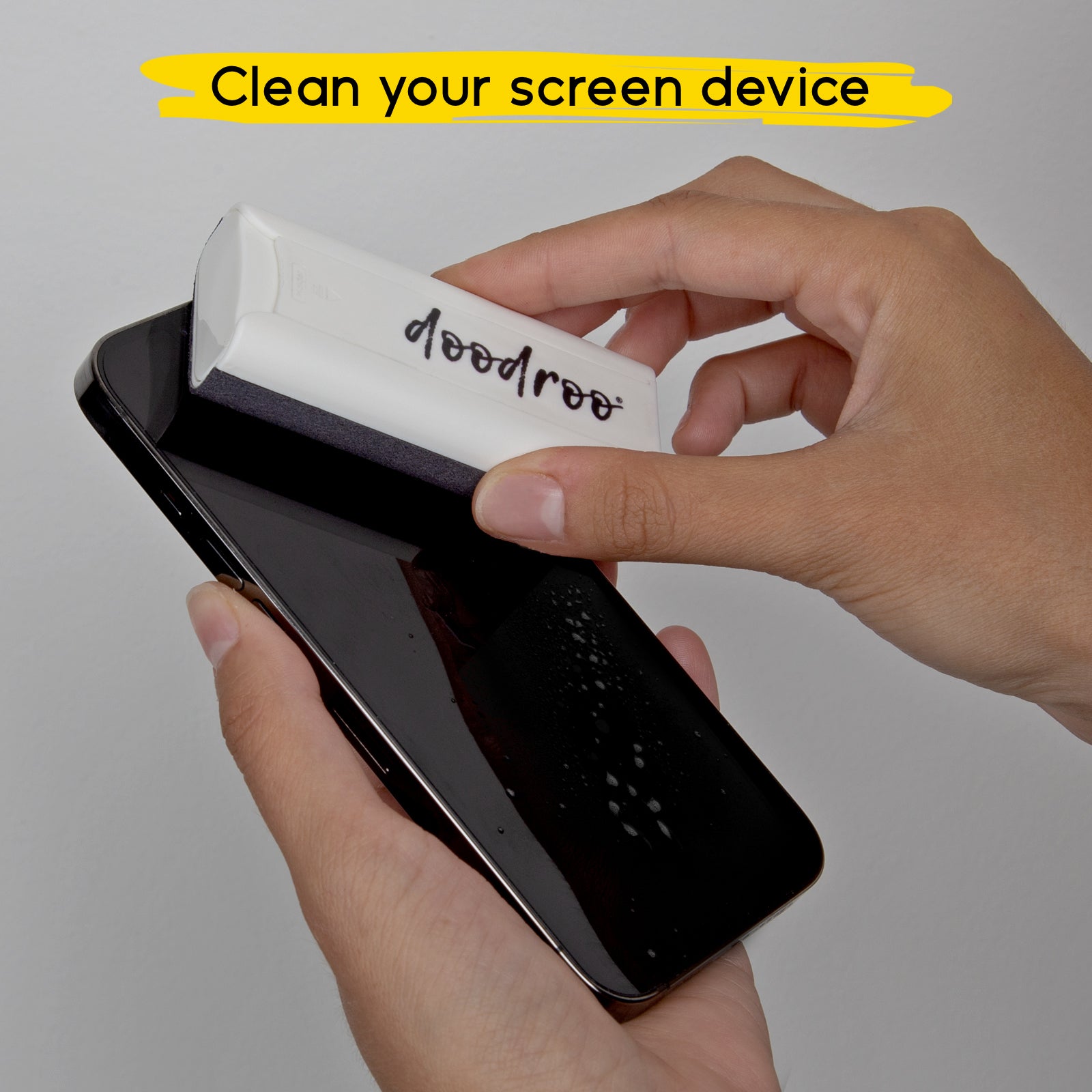 Cleaning kit for smartphone, tablet and PC displays
In stock
Thanks to this portable kit, you can clean the screen of your devices quickly and easily
WHY CHOOSE THEPORTABLE CLEANING KIT FOR SMARTPHONES, TABLETS AND PC
This doodroo cleaning kit is simple to use, convenient to carry and environmentally friendly . Its dimensions make it convenient to carry in a suitcase, handbag, backpack or even in your pocket, it cleans and sanitises without exerting pressure and contains no chemical substances. It is ideal for all types of screen: iPhones, Android smartphones, tablets, notebooks, PCs and smart TVs.
USER GUIDE: THE KIT CLEANES THE SCREENS QUICKLY AND EASILY
Ease of use is one of the main advantages of the cleaning kit. Just spray once or twice on the display at a maximum distance of about 2 cm: pass the microfiber part over the screen to remove fingerprints, dirt and smudges. No need to scrub or apply strong pressure: the display will become as clear as if it were brand new.
MAIN FEATURES OF THE CLEANING KIT: ECO-FRIENDLY AND RECHARGEABLE
Doodroo's cleaning kit contains no chemical substances such as alcohol or ammonia: it is therefore anti-allergic and environmentally friendly, ensuring a perfectly clean and streak-free screen. It not only removes grease but also static. The display kit can be rinsed under running water and refilled when necessary with any liquid suitable for cleaning screens.
NOT JUST CLEANING: IT INCLUDES A SUPPORT STAND FOR SMARTPHONES AND TABLETS
The kit also has a housing for smartphones and tablets. This support stand function allows you to support your device: this way you can browse the web and view photos or videos.
KEY FEATURES:
Portable, put it in your handbag, backpack or pocket
Environmentally friendly, it contains no chemical substances
Easy to use, no rubbing required
Degreaser and antistatic
Washable
Refillable
Stand function to support smartphones and tablets
If you want to draw on your tablet, we recommend our artist's glove; if, on the other hand, you want to read and write in complete comfort, there is the doodroo support stand.
doodroo Screen Cleaning Kit
Magia consigliata
Prodotto magico, funziona davvero! Lo consiglio a chiunque voglia prendersi cura ogni giorno del proprio smartphone
Amazing!
This is truly a remarkable accessory for the Boox Tab Ultra. It reproduces the feel of writing on paper so well that it should be included as standard with every device. Haven't found anything else that comes close! Highly recommended for note takers and doodlers
Très bonne écran de protection !
L'écran de protection est tout à fait adapté à mon appareil (onyx booxax lumi). La texture est assez proche du papier, très rugueux. Le kit pour l'installation est excellent, j'ai pu l'installer facilement et sans la moindre bulle ou partie décollée sur un écran 13 pouce. L'écran pourrait mieux diffuser les reflets.