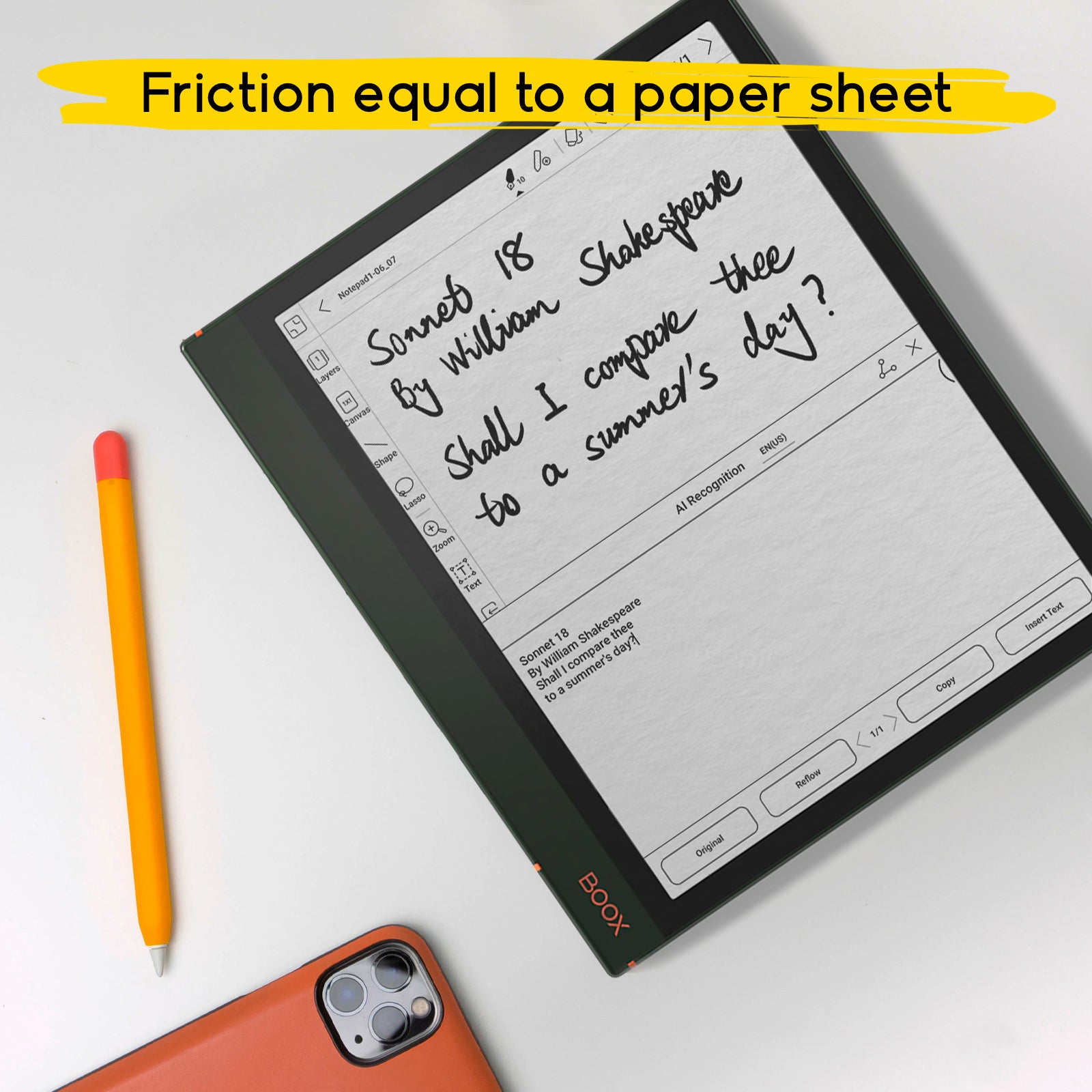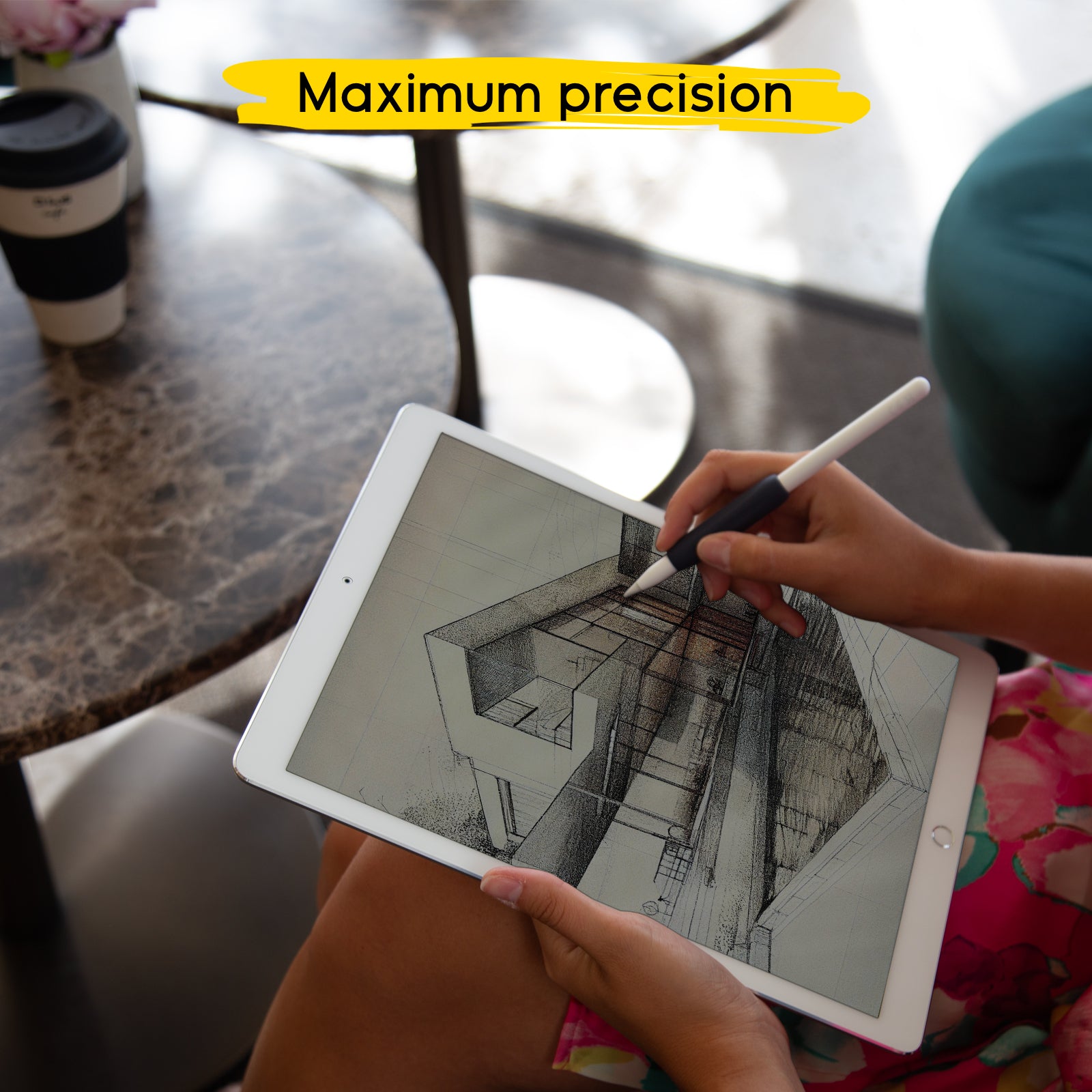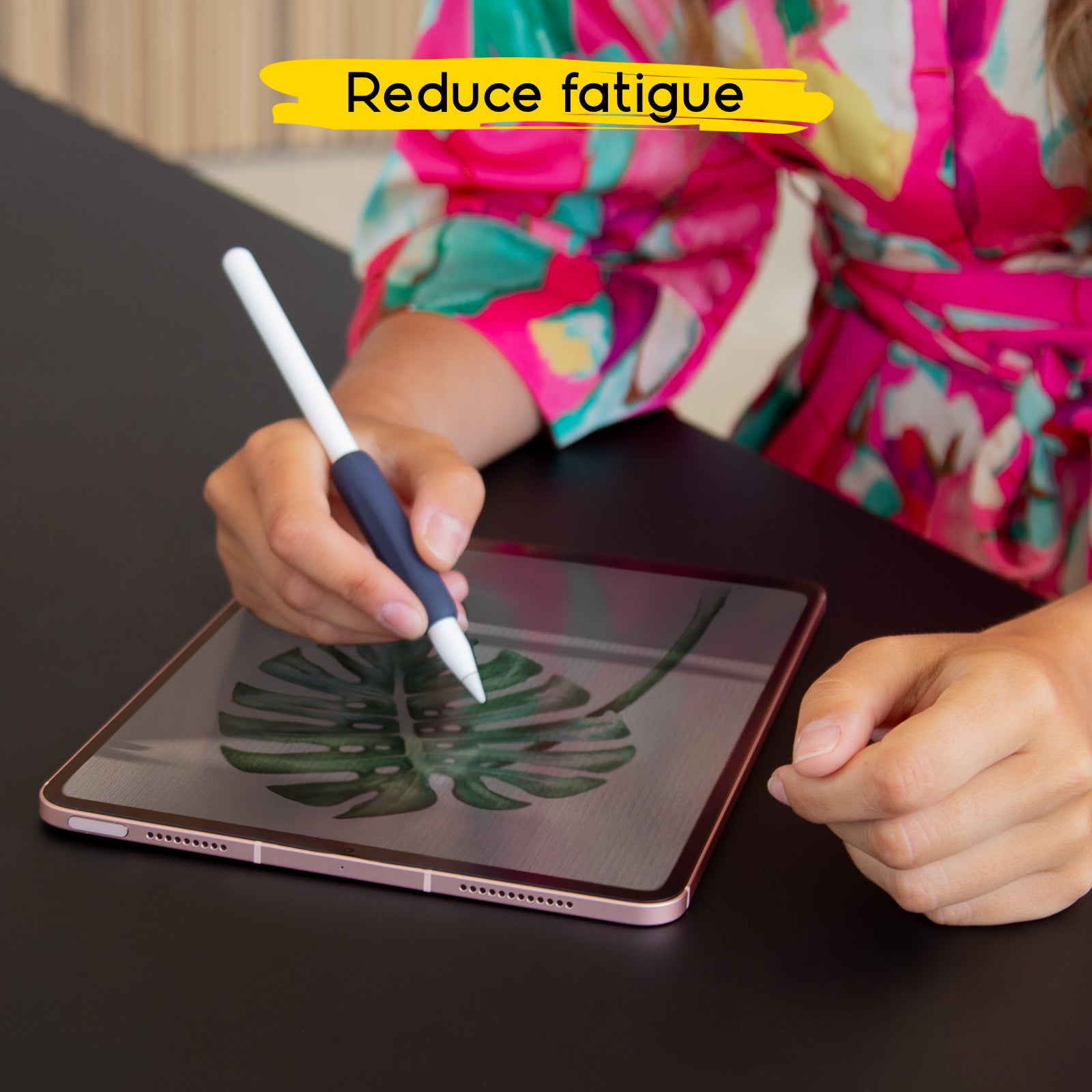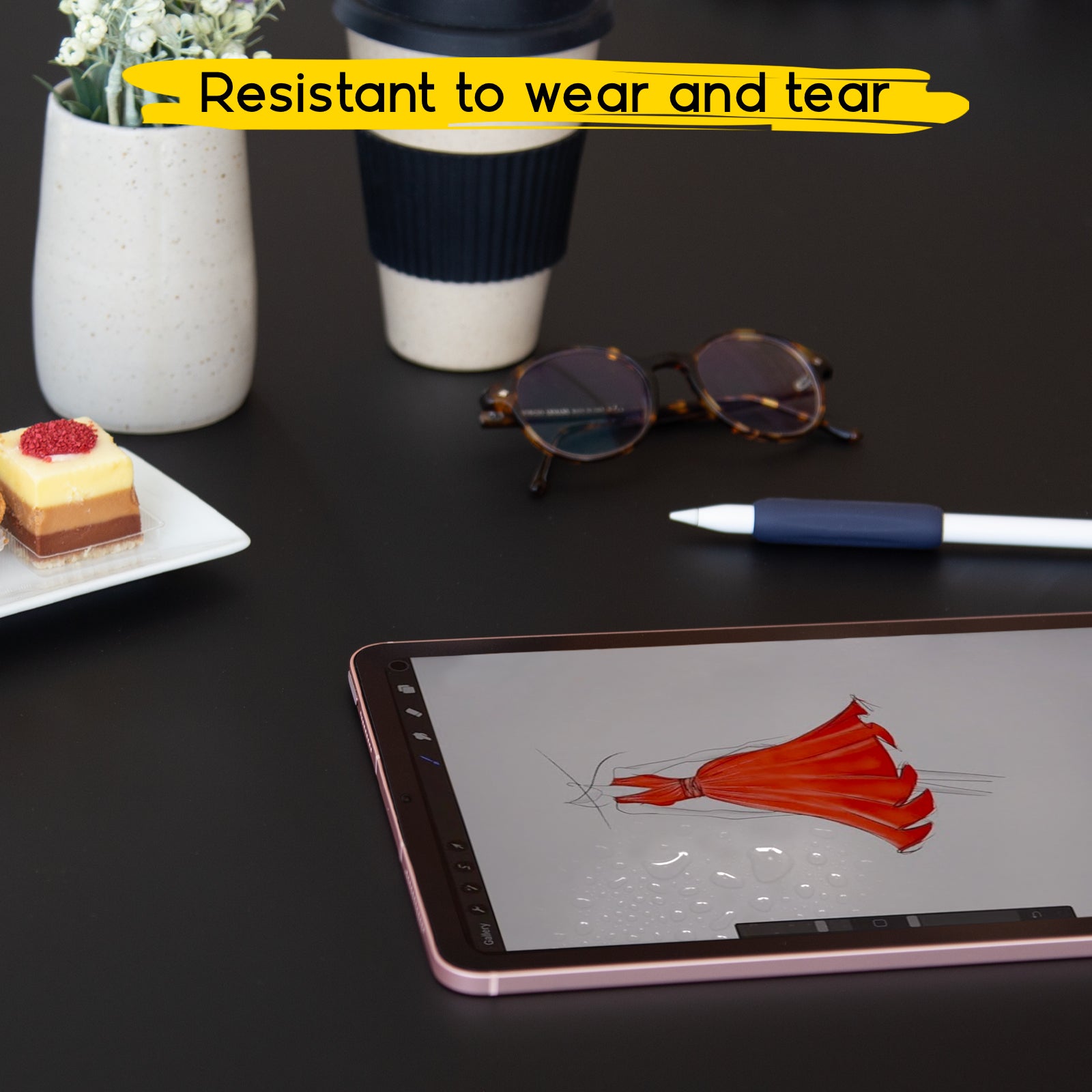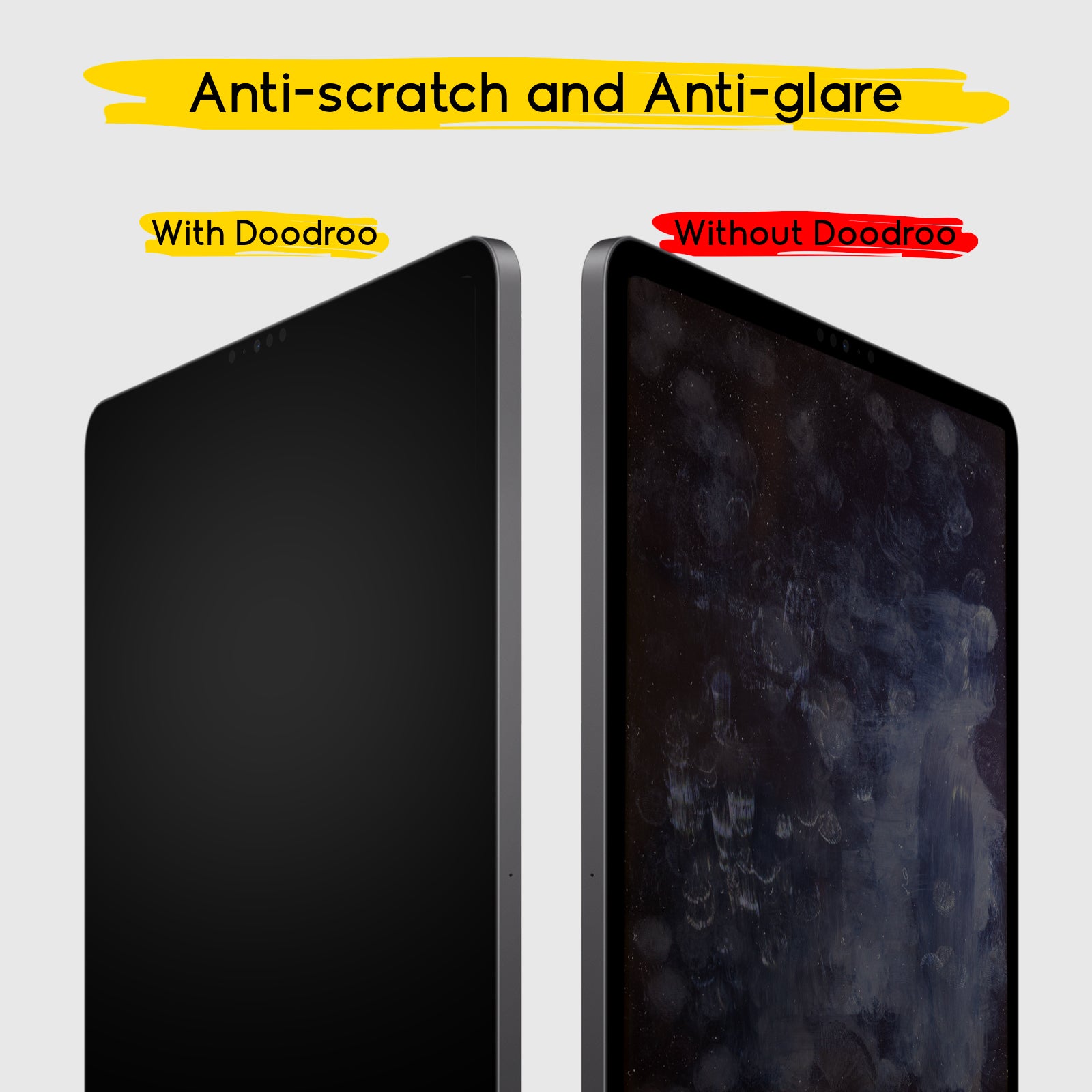 Paper-feel, anti-reflection and anti-fingerprint protective film for Onyx BOOX
In stock
This easy-to-apply film feels just like paper, letting you use your Boox Pen like a real pencil
The boox  finally becomes a real paper notebook. 
The First and original  Paper Feel Screen protector made for Onyx Box 
doodroo has managed to recreate a screen protecting film with the same resistance and sound of a pencil writing on paper. An extraordinary result to date and long dreamed by notetaker 

Before doodroo, using the boox  offered a very different experience from real paper Being that the traction of the Pen on the boox screen was very low !
As a result, notetakers could not experience the same feeling of natural support.
Everything changes thanks to doodroo, who created a special screen protecting film. 
Laboratory tests have shown that pen  has a resistance of 0,24 whilst using a doodroo. In comparison a pencil on paper has a resistance of 0,25, practically recreating the natural way to draw or write.
The doodroo film protects the boox screen from scratches and thanks to it's anti-glare surface, it's usable under any light condition. With no lack in response, the Pen has never felt so natural, as well as comfortably using it with fingers. The film is fully functional with boox  Pen 
 Easy to instal with video instruction and no bubble gurantee
tested  and Approved by "My Deep Guide"
In-the-box:
2x

 Application Sticker Set

2x

 Screen 

Cleaner

 Set

2x

 Dust Absorber

2x

 Applicator
Image credits : onyx boox
Poor application, and even worst Customer Service
Tried it out, and the protector is difficult to adhere without creating bubbles. As you try to fix, it simply gets worse until you cannot really use the protector. There is a reason they send two. They know it is poor. Tried to reach an amicable resolution with Customer Service. They had an attitude, did not provide a real resolution, and took long to respond. Sadly, this is more hype than quality. It is not worth the price.
Mediocre Quality. Poor Customer Service
The screen protector us not easy to apply without generating bubbles. It gets worst as you try to undo them. Customer Service's attitude is poor. They respond with an attitude. No real resolution is provided. Not worth the price of the protector.
Nice surface poor application
You have a nice writing surface, but applying it to the device isn't good. My iPad 12.9 the sheet is 1mm too big on all sides making it difficult to put a case on back the device after having applied the Doodroo. I had two go's
Adding it to my smaller iPad there was too much static.
My Boox TUC was the last of the three, this one I had the best experience with, only two dust air bubbles. You would think after applying 5 sheets of these you would have worked it out, or perhaps the application method isn't all that great. Mind you not all devices have straight edges! The older iPad Pro 9.7 is rounded.
Not very happy with it and wouldn't recommend or buy it unless you can provide a better application process.
Beautiful texture
It's amazing how much the Doodroo feels like I'm writing on good paper. It adds so much to the experience. I highly recommend this product to anyone who appreciates the sensory aspect of writing.
Doodroo is the Realdeal
I am new to the space of eNotetaking and purchased a Boox Tab Ultra C after extensive research. I love the Tab Ultra C, with all of its ups and downs that I read about, it seems perfect for me, for right now. And again, I am a complete middle-aged novice, with an active mind to change the world. While I didn't mind the natural Boox Tab surface with the native stylus, I read about a "more natural feeling" that I could achieve with a doodroo cover and a titanium tip in my stylus. So, I tried it out. And...I love it. It feels even better, more natural like pen and paper. I do have a couple of tiny bubbles that I can't seem to clear at the bottom. They look like the tiniest piece of dust landed as I was applying the sheet. They have zero negative impact on the performance and no one other than me can notice them unless they are doing and official screen protector audit on me. I wish I could ease them out, but they are part of me now.
I love the Boox Tab Ultra C for notetaking and I love the Doodroo screen protector (with titanium tip on the stylus). I have never tried anything else, so to me, this is a perfect world. Thank you.